Lesson Five: Skills Time! Unit 10 - Family & Friends Special Edittion Grade 2
Tiếng anh
---
Reading
1. How many friends can you see?
2. Listen and read.
Click here to listen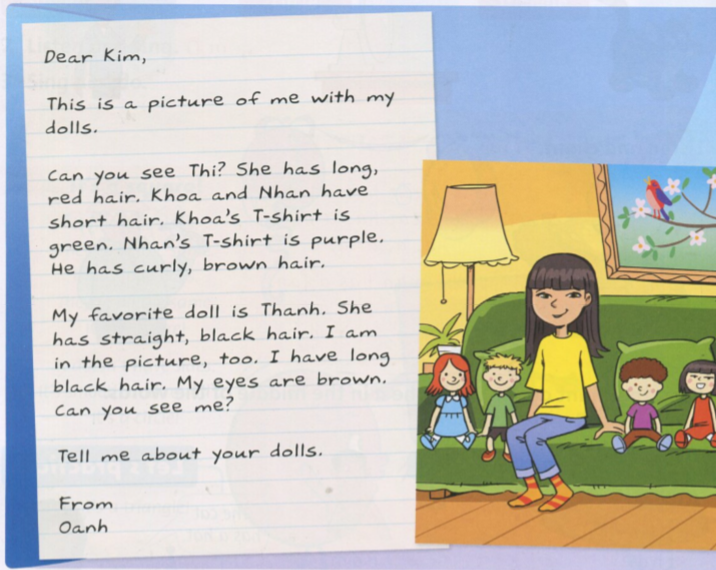 Script:
Dear Kim,
This is a picture of me with my dolls.
Can you see Thi? She has long, red hair. Khoa and Nhan have short hair. Khoa's T-shirt is green. Nhan's T-shirt is purple. He has curly, brown hair.
My favorite doll is Thanh. She has straight, black hair. I am in the picture, too. I have long black hair. My eyes are brown. Can you see me?
Tell me about your dolls.
From
Oanh.
Dịch:
Kim thân mến,
Đây là bức ảnh của mình với những búp bê của mình.
Cậu có nhìn thấy Thi không? Em ấy có mái tóc dài, đỏ. Khoa và Nhân có tóc ngắn. Áo phông của Khoa màu xanh lá cây. Áo phông của Nhân màu tím. Anh ấy có tóc xoăn, nâu.
Búp bê yêu thích của tớ là Thanh. Em ấy có mái tóc thẳng, đen. Tớ cũng ở trong hình. Tớ có mái tóc dài đen. Mắt tớ màu nâu. Cậu có nhìn thấy tớ không?
Hãy kể cho tớ nghe về búp bê của cậu.
Từ Oanh.
3. Read again. Write the names.

Hướng dẫn:
2. Thanh
3. Oanh
4. Khoa
5. Thi

Học Tốt - Giải Bài Tập Offline

Đã có app HỌC TỐT trên điện thoại, giải bài tập SGK, SBT Soạn văn, Văn mẫu....miễn phí. Tải ngay ứng dụng trên Android và iOS.
---